Sprint's HTC EVO Design 4G Leaked Images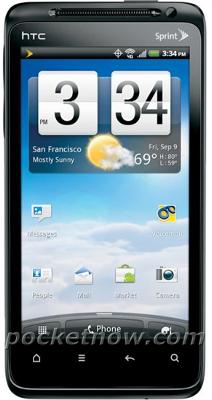 Leaked HTC EVO Design 4G for Sprint Wireless
We got our hands on a leaked press photo (complements of PocketNow.com) of the next smartphone in Sprint's EVO lineup and it is looking to be the HTC EVO Design 4G.


This is no surprise to those in the smartphone community because we were expecting this device to hit the market soon enough. Our only questions where the timing and the price point. Questions still left unanswered as of now.
Let's check out the specs on this bad boy. First of all this is an Android device sporting Gingerbread 2.3.3 with a single-core 1.2GHz CPU. The HTC EVO Design 4G will pack 768MB of RAM under a 4-inch qHD display.
Folks this smartphone comes equipped with a front-facing 1.3-megapixel camera for video chat along with a 5-megapixel rear camera capable of recording 720p video.
Let's be clear the specs that you're hearing about are actually a month old so it is not unheard of for things to change. HTC has done it before so they can do it again and this is what comes with the territory when reporting on unfinished smartphones that have yet to ship.
Giving credit where credit is due we have to thank our folks over at
PocketNow
for keeping us in the loop.
Join in and write your own page! It's easy to do. How? Simply click here to return to Smartphone News Blog.