Samsung GALAXY S II an Awesome Android Phone
The Samsung GALAXY S II is an awesome Android phone if you're looking for an extremely fast smartphone that renders life-like images and has more entertainment options than you can imagine.
Who's going to be carrying this amazing device?
This smartphone will be on the shelves of Sprint, T-Mobile and AT&T. Just note at Sprint it will be called the Samsung GALAXY S II Epic 4G Touch.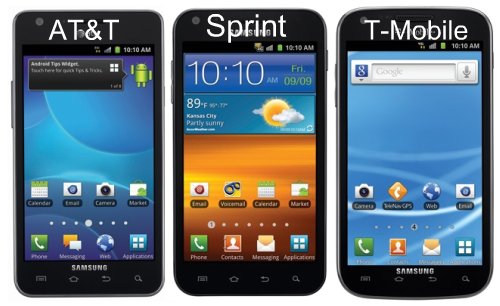 Speed Kills
With this Android phone you definitely have the throttle in your fingertips. This Android smartphone does everything fast. We're talking mach speeds for:
uploads
downloads
surfing
streaming.
You would expect nothing less when considering this smartphone was built especially for 4G networks.
Where does all this speed and power come from?
Your smartphone is engineered with a C210 Dual Core processor to give you more speed than the Road Runner. Except this isn't a cartoon.
The Samsung Galaxy's bread and butter is being able to seamlessly multi-task and being responsive to every touch of your finger.
Laser Surgery On My Eyes
If you thought you had a display that was worthy of bragging rights you haven't seen anything yet. One look at the Super AMOLED PlusTM technology around this screen and you'll believe you've just received corrective laser surgery.
Apple fanboys tout retina display well that is coming to an end after witnessing the crystal display found on this Android smartphone. We're talking excellence in color spectrum, contrast ratio and edge sharpness. Your Samsung GALAXY S II smartphone has RealStripe screen technology to increase the sup-pixel count and the ability to make images look clearer and more detailed.
Operating System and Functions
Gingerbread, Android 2.3 is the mobile operating system behind the Samsung GALAXY S II. If you want a fully integrated experience you are going to find it with this smartphone.
Samsung has included hubs for entertainment and content so you can get to the things on your phone which matter the most:
music
games
e-reading
social networking services.
We're still just getting started with what you'll find on this amazing Android smartphone.
Live Panel provides a magazine-like widget so you can access the things that matter to you right from the home screen. Immediately access:
weather
social updates
email
news
photo gallery, etc.
all from the home screen with one-touch access to the things that you care about the most. With the TouchWiz User Interface notification on the lock screen you'll be able to see the number of undread or new text messages and missed calls. Also, gain access to your device settings for Wi-Fi, Bluetooth and GPS all in one readily accessible location.
No need to be concerned about data and network security.
The top IT leaders were consulted to ensure nothing is compromised. What you'll see coming your way is enhanced conferencing and connectivity services from Cisco and implementation of Microsoft Exchange ActiveSync along with secure remote device managment from Sybase.
Kies Air Keeps You In The Loop
Kies air allows you to manage your Samsung smartphone contents from your PC using local WiFi connections, download photos taken with the built-in 8 mega-pixel camera, listen to music, check missed calls and send messages in the web browswer on your PC.
Wireless is a basic function of this Android smartphone. You can connect to wireless-enabled PCs and printers and there is room for Near Field Communication (NFC) to support mobile payment systems and other services.
The Specs To Help You Decide
There are a few variations between carriers for this phone. Let's begin with understanding the names are different:
AT&T: Samsung GALAXY S II with product number: SGH-1777
Sprint: Samsung GALAXY S II Epic 4G Touch with product number: SPH-D710
T-Mobile: Samsung GALAXY S II with product name: Hercules
Here are some quick specs to let you know what's coming your way:
| | | | |
| --- | --- | --- | --- |
| | AT&T | Sprint | T-Mobile |
| Processor | 1.2GHz dual-core | 1.2GHz dual-core | 1.2GHz dual-core |
| Storage | 16 GB | 16 GB | 16 GB |
| Display Size (inches) | 4.27 | 4.52 | 4.52 |
| Camera | 8 mega-pixel | 8 mega-pixel | 8 mega-pixel |
| Font-Facing Camera | 2 MP | 2 MP | 2 MP |
| Video | 1080p | 1080p | 1080p |
| Battery- Continuous Usage | upto 8 hrs | upto 8.7 hrs | N/a |
| Weight | 4.3 ounces | 129 grams | N/a |
| Size | 4.96"x2.6"x0.35" inches | 12.99x69.6x9.59 mm | N/a |
New!

Comments

of comments have already been left on our site. Have your say about what you just read! Leave me a comment in the box below.