Microsoft Lync IM Service Coming to Smartphones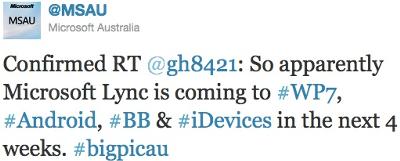 Microsoft Lync Smartphone Twitter announcement
Microsoft Australia has confirmed via Twitter that its Microsoft Office Communicator now known as Microsoft Lync will be available on multiple smartphone platforms that include:



Google Android


Windows Phone 7


Blackberry OS


Apple iOS.


Microsoft Lync is an instant messaging service for enterprise users that has full integration with Microsoft Office allowing users to do all of the following over a secure loacl Lync server:


Voice


Video


Conferencing


Collaboration


File sharing.


Microsoft Lync has already been available as desktop versions for both Mac and Windows so going the mobile route is definitely a new development that is going to take full advantage of the use of smartphones in the corporate world.
As this is new technology with a number of additional features don't head down to your IT department just yet asking for the mobile version of Microsoft Lync. You'll have to wait until the end of the year for the service to be available.
(
via
Electronista)
Join in and write your own page! It's easy to do. How? Simply click here to return to Smartphone News Blog.