The iPhone 4 Is The Best Smartphone Available
The Apple iPhone 4 is simply put the best smartphone available. People have been known to break their cell phone contract just to get their hands on this device. Others have camped out days and weeks before the phone has launched to be the first to own one.
We can't even get started on how you'll absolutely swoon over this device if you're a fan of the black or white i Phone.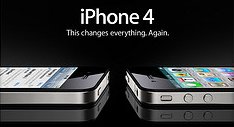 Steve Jobs and team simply know how to design devices.
Antenna Gate
When the apple phone was launched there was concern that the design was flawed. Where if you held the phone in a certain manner you'd lose all reception. Well, after owning a device and not even having to use a "bumper" I never ran into such issues. Honestly, Antenna Gate appears to have been vastly blown out of proportion.
Never had a reception issue with this great smartphone. So you will be able to make and receive calls along with text messaging and everything. There is absolutely nothing to worry about.
Retina Display
Once you see the visuals on this device you are never going back to anything other than an Apple phone.
There is a 960-by-640 resolution at 326 ppi all within a 3.5-inch (diagonal) widescreen Multi-Touch display. Okay, getting too technical there just know it is like going from wearing bifocals from the 1980s to having laser corrective eye surgery. Whatever is displayed is sharp, in focus and stunningly beautiful.
Oh and since this is one of those touch screen cell phones, the iPhone 4 specifically comes with a fingerprint-resistant oleophobic coating...no smuges on this device.
Networks Supported
You can get this great i phone for either a GSM network or CDMA model. Remember GSM requires a sim card, so this is typically seen with AT&T while the CDMA model works on Verizon Wireless.
There are reports that the new iPhone may have the capacity to work on both CDMA and GSM, which would be quite awesome I'd say.
Not getting too technical here are the specs for cellular and wireless: 802.11b/g/n Wi-Fi (802.11n 2.4GHz only).
Smartphone Battery Life
Let me say thank you Apple!
Finally, a smartphone where I don't have to cutback my usage so I can conserve battery power. When traveling I could do everything with this device and be confident that by the end of the day my Apple phone still had enough juice to make calls and send text messages if needed.
You're getting up to 7 hours of talk time on 3G networks, 6 hours of internet use on 3G and up to 10 hours of video playback.
If you're using the iPhone 4 as an ipod you'll be glad to know there are 40 hours worth of audio playback. See now you don't even need another music device when you have an i Phone.
Everyday Usage
You can't go wrong with the iPhone 4 no matter how hard you try to hate this cell phone and try to use smartphone comparison standards to find a fault.
Having video recording, HD (720p) and a 5-megapixel still camera means all those spur of the moment life events can be captured if you want. Here's something that you'll love. There are two cameras, never will you have to guess if a picture will turn out again. You can see exactly what you're photographing on the spot. Since we live in a very mobile day and age, have fun using geotagging too!
Did I mention that if you have a Wi-Fi connection you can use FaceTime, which basically is video chat.
A Few Areas of Improvement
As I said I will always tell you how it is whether good or bad and there are some things which can be improved.
Today you'd expect to have turn-by-turn directions and the Maps + Compass does not allow this and this is something which should change. Because how can you be driving and have to flip through the map at the same time...it just doesn't work out.
Allow me to delete individual entries from my call logs. What I hate is the fact that if I get a call from somone let's say a delivery guy, I cannot delete just his number from my call log. Instead, I have to delete all of my entries and I find this annoying nonethelesss.
Okay, this is probably getting too picky but how about a LED light alerting me to my messages. Apparently, can't be done because it will cut into the battery life. Another concern I had was when messages come through on the i Phone 4 it interrupts whatever I am doing. There is no option to let it go to the background, but luckily this will be changing in future editions of Apple phones.
App Store and iTunes
Having the most apps available is definitely a selling point that I support. Basically, if you can think it...there's an app for that.
Since Apple controls both the hardware and the software everything integrates seamlessly and just works. Never will you see fragmentation and differences in experiences from device to device because the iOS is second to none.
The Round Up
So nothing can be perfect and satisfy the needs of everyone, but the iPhone 4 really comes close. It definitely beats all the latest smartphones currently available.
Plus, when you walk into any public venue you'll notice that there are a lot of Apple phones in circulation. For instance, was at a friend's birthday party and I kid you not when I say 85% of the people in attendance had the iPhone.
I'll be honest and say the iPhone 4 is a definite buy if you're in the market for a smartphone. The pros outweigh the cons in everyway imagineable.
New!

Comments

of comments have already been left on our site. Have your say about what you just read! Leave me a comment in the box below.