iPhone 4S Arrives on C Spire Wireless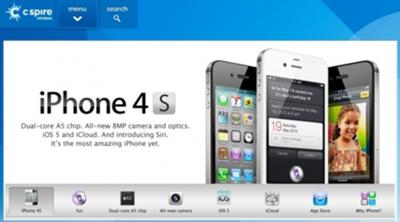 You heard that correctly, C Spire wireless is getting the highly sought after iPhone 4S on November 11, for those of you who like abbreviations that will be 11-11-11. C Spire apparently believes it is the number one regional carrier since only the big boys have the iphone: AT&T Wireless, Sprint and Verizon Wireless.

C Spire has pricing on the new Apple iPhone 4S that matches up to the other carriers:



$199.99 for 16GB


$299.99 for 32GB


$399.99 for 64GB


These prices are what you'll pay when signing up for a new two-year contract with data plan. Also you can jump back in time and rock the iPhone 4 8GB model for $99. Again you'll need a two-year contract and data plan.
We're sure you'll want to know the pricing for these contracts so you can make an informed decision if you want to jump ship from the national wireless carriers to the regional C Spire. Here's what you'll find on the four plans that will be available with the Apple iPhone:


Plan 1: $50 per month for 500 minutes plus unlimited SMS and unlimited data.


Plan 2: $70 for unlimited minutes, unlimited SMS, and unlimited data.


Plan 3: $90 for 1,000 minutes plus unlimited SMS and unlimited data.


Plan 4: $100 for unlimited everything.


Please note Plans 1 and 2 exclude streaming.
Read
Join in and write your own page! It's easy to do. How? Simply click here to return to Smartphone News Blog.