DROID4 By Motorola Exclusive Pictures Have Arrived, Is This Codenamed Maserati?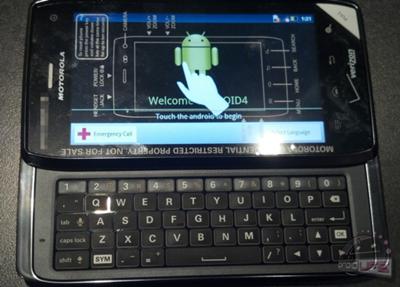 Motorola and Verizon Wireless must have one very exclusive partnership for the release of new smartphones. No firm launch date is set but Motorola will be launching the DROID4 on Verizon Wireless. What sets this smart phone apart is the combination of touchscreen and slideout qwerty keyboard.

Even with a slideout this is still going to be a very thin DROID4 from Motorola. Not all the specs have been revealed but it promises to run on 4G LTE. Those in the know are confident the device will have a processor of at least 1.2GHz OMAP4430 which currently powers the Motorola DROID RAZR.

Here's what is known about the specs:



4″ screen (assuming Super AMOLED Advanced)


Android 2.3.5


Non-removable battery


1080p video recording (assuming 8MP)


Front camera


HDMI out


MotoACTV syncing


Again no word on when this smart phone is going to be released. We're making an assumption it will be sooner than later though. Traditionally, qwerty-based devices are released in during the summer months but since the Motorola DROID4 is already loaded up with apps and software it does seem a release is on the horizon.
Perhaps, Motorola and Verizon are waiting for their already full pipeline of releases to clear out so as to not over saturate the market place.
Read
Join in and write your own page! It's easy to do. How? Simply click here to return to Smartphone News Blog.