Droid Bionic A Great Verizon Android Phone That Does
The Droid Bionic has been delayed by 8 months but it has finally arrived. This is definitely another great creation coming out of the Motorola Droid line-up.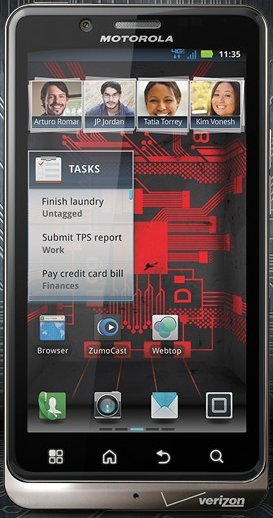 We all know that Droid does but we won't make this about a comparsion to the Apple iPhone. We'll just stick to covering this Verizon Android Smartphone with a launch sticker price of $299 on-contract.
What happens when you partner up Google Android, Verizon Wireless and Motorola?
You get the Motorola Droid Bionic which is ferociously fast. This new smartphone takes full advantage of being on a 4G LTE network and is powered by a 1 GHz dual-core processor.
Master of Machines
The Droid Bionic is one powerful Motorola smart phone that can control your connected devices remotely. Not only will it control your devices it also can extract the data on them at 4G LTE speeds.
The ZumoCastTM app built by Motorola is unbelievable. This free app allows you to pull your music, movies, pictures and documents form your computer instanteously and wirelessly. Finally, you can say good-bye to cords and USB ports.
That's not all you can do with the free ZumoCast app.
All you have to do is connect your Motorola Droid to a webtop-enabled accessory and you can see your new Android smartphone on a monitor or HD TV. Meaning you can:
surf the web
make a call
send a text
stream a video
or run an app
from a Firefox
R
browser all at the same time, while your smart phone charges.
Motorola Droid Does Work Too
Don't think this is a Motorola smart phone that is all play and entertainment. You can get a lot accomplished on the go too.
How about having your email, calendar and task widgets right on the home screen? You got that correct... no more apps to open. Access the things you need the most with ease.
Was it mentioned that these widgets are re-sizable and scrollable making life a breeze when you lead a hectic lifestyle.
Your smartphone is an extension of your life. Never worry about outsiders getting access to your personal information because both the Motorola Droid and its SD card are encrypted.
Specs for this Motorola Droid
If you could care less about the specs then no need to read further. But if you're a smartphone fanatic then sit back and take in what you'll find under the hood of this Motorola smart phone. Here goes: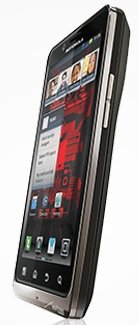 Android 2.3 aka Gingerbread
1 GHz dual-core processor
1 Gigabyte of DDR2 Ram
16 GB of internal storage, plus 16 GB microSD card pre-installed
4.3" qHD (960x540) Display
HDMI/Mirror Mode
4G LTE Mobile Hotspot (Up to 5 devices)
802.11 b/g/n
1735mAh battery
Bluetooth v2.1+ EDR
8 megapixel rear camera
1. 3 megapixel front facing camera
Talk Time (Continuous): up to 650 min.
Standby Time: up to 200 hrs.
Weight: 156 grams
Size (HxWxD): 66.9x127.5x10.99 mm.
New!

Comments

of comments have already been left on our site. Have your say about what you just read! Leave me a comment in the box below.