Developers Are Taking An Interest in Windows Phone Platform Over RIM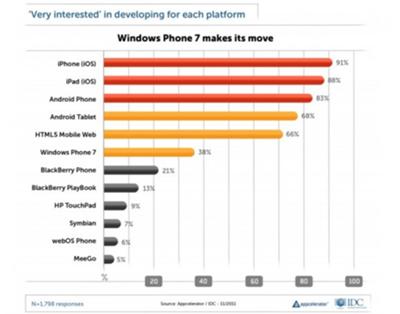 Research In Motion, simply cannot catch a break. According to Appcelerator's Q4 2011 report developers now prefer the Windows Phone platform over RIM's Blackberry OS. The almighty Apple iOS continues to remain as the top platform for developers which isn't surprising at all.


Looking at the numbers approximately 91 percent of coders stated they were very interested in developing for the Apple ecosystem while only 38 percent said the same about Windows Phone 7 and lastly 28 percent where interested in developing for Nokia Lumia 800.
So after developing for the Apple iOS smartphone platform, developers were then most interested in the Google Android OS for smartphones where this garnered 83 percent of the developer's attention.
iOS 5 which was recently released by Apple took the top news spot for developers this quarter and was followed up by news of Samsung taking the top smartphone spot.
Following up on the poor outlook for RIM, the percent of developers who have an interest in this operating system continues to decline to 21 percent this quarter which is a drop of seven percentage points.
Read
via SlashGear
Join in and write your own page! It's easy to do. How? Simply click here to return to Smartphone News Blog.