Blackberry Bold 9900 Smartphone Packaging Arrives At ATT Wireless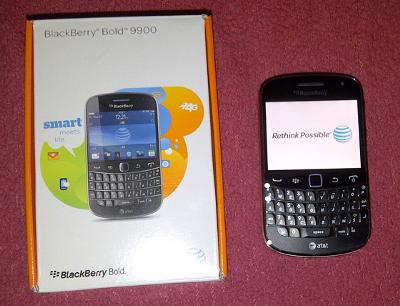 ATT Wireless on November 6 will finally be getting the Blackberry Bold 9900. The other major carriers already have the device including the CDMA variant known as the Blackberry Bold 9930. The Blackberry Bold 9900 will set you back $199.99 on a two-year contract.

Apparently, you're going to have to make a tough call as to whether you want to lock yourself in to this commitment knowing Research In Motion may be bringing out their new operating system BBX in early 2012. Oh, the decisions you're going to have to make.

But if you like Blackberry and need a new smartphone we're going to entice you to get yours now by revealing all the specs available.

The Blackberry Bold 9900 is powered by a single-core 1.2GHz processor and comes equipped with 768MB of RAM on board.

How about the visuals and display?

You'll be working with a 2.8-inch touchscreen with a resolution of 640 x 480. So you have the best of both worlds because the phone also has a huge physical QWERTY keyboard. Not to jump the gun but with Blackberry 7 OS installed you'll be able to take full advantage of the touchscreen by being able to "pinch to zoom" you really can't beat this at all.

If you're into photos and taking pictures you may be slightly disappointed in the 5MP camera, but hey it is a smartphone and not a dedicated camera. The Blackberry Bold 9900 also has the ability to capture video at 720p.

We didn't forget about the memory either, ha ha ha. We're talking about 8GB built in, which can be expanded to 40GB using a MicroSD card.

So you definitely have a great smartphone in the Blackberry Bold 9900 which has arrived on AT&T Wireless.
Join in and write your own page! It's easy to do. How? Simply click here to return to Smartphone News Blog.